Best Shiatsu Massage Pillows Reviewed & Rated For Quality
---
---
In this post, you'll find our top recommendations for the best and most affordable Shiatsu massage pillows .
While the ideal for everyone is to see a qualified Shiatsu massage therapist, this isn't always an easy (or affordable) option.
Thankfully, there are some outstanding options for Shiatsu massage pillows that you can buy for the home. They're mostly inexpensive, last a long time and provide amazing relief and relaxation if used correctly.
It's important to make the right choice, however. Not all Shiatsu massage pillows are the same (and high price does not always equal high value). So we've done the research for you.
---
Here's
our top choice

after extensive research: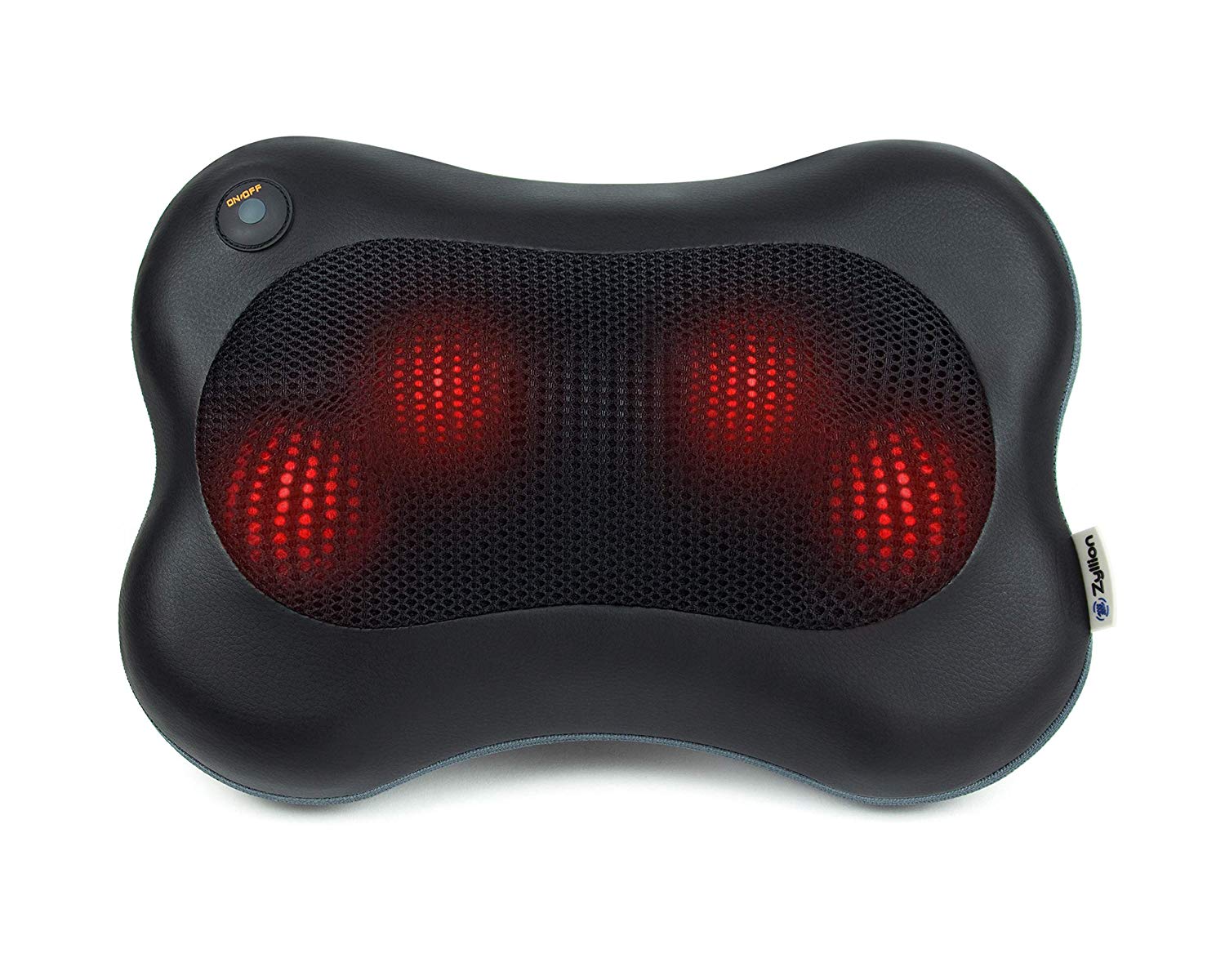 Zyllion Shiatsu Back and Neck Massager
Why we love it:
Sturdy build
Multidirectional
Automatic shutoff
10 Best Shiatsu Massage Pillows
1. Zyllion Shiatsu Back and Neck Massager
PROS:
Very strong and sturdy unit
Overheat protection
Adjustable straps
CONS:
Inconvenient button placement
Slightly expensive
Low quality cord and adapter
The Zyllion Shiatsu Back and Neck Massager is arguably the most popular Shiatsu massage pillow on the market.

Most popular Shiatsu massage pillow to date
With around 9000 mostly positive reviews on Amazon alone, you can't ignore the popularity of the Zyllion Shiatsu pillow.

Higher end of the pricing scale
Due to its high quality and popularity, the Zyllion is unfortunately priced higher than most other Shiatsu pillows.

Built-in overheat protection
Just in case you use the Zyllion for too long or forget to turn it off, this massage pillow will automatically shut off after 20 minutes of use.
---
2. Homedics 3D Shiatsu & Vibration Massage Pillow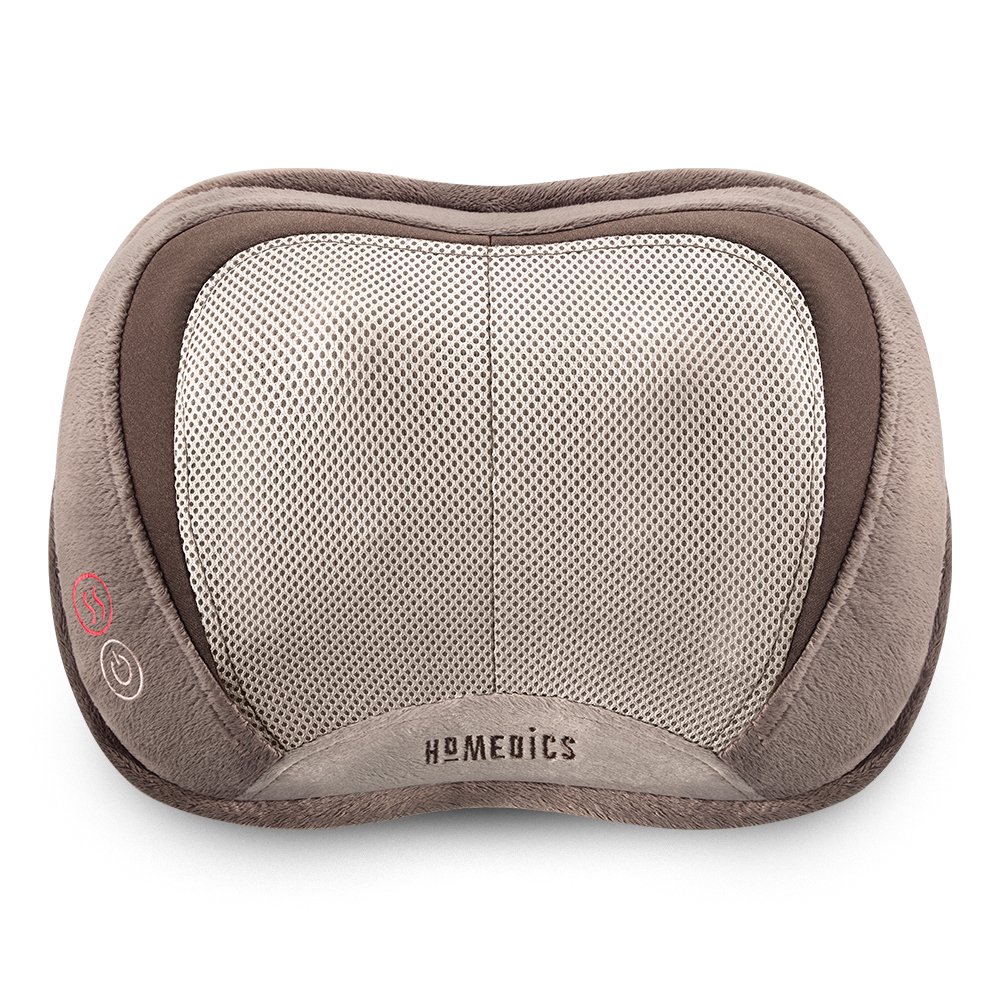 PROS:
Vibration option
Lovely material design
Conveniently placed controls
CONS:
110v Power Restriction
Potential electrical issues
More Expensive
The Homedics Shiatsu pillow is one of the nicer, more high-end options with a beautiful material design.

Vibration + Heat
Most Shiatsu pillows offer heat as an option but the Homedics device goes a step further with a vibration feature.

Known electrical faults
Unfortunately, the Homedics brand seems to suffer from occasional electrical faults and is restricted to the USA (110v).

Aesthetically beautiful
Homedics Shiatsu pillow is a beautifully designed device and gets away from the typical black of most Shiatsu pillows.
---
3. Zuzuro Shiatsu Pillow Massager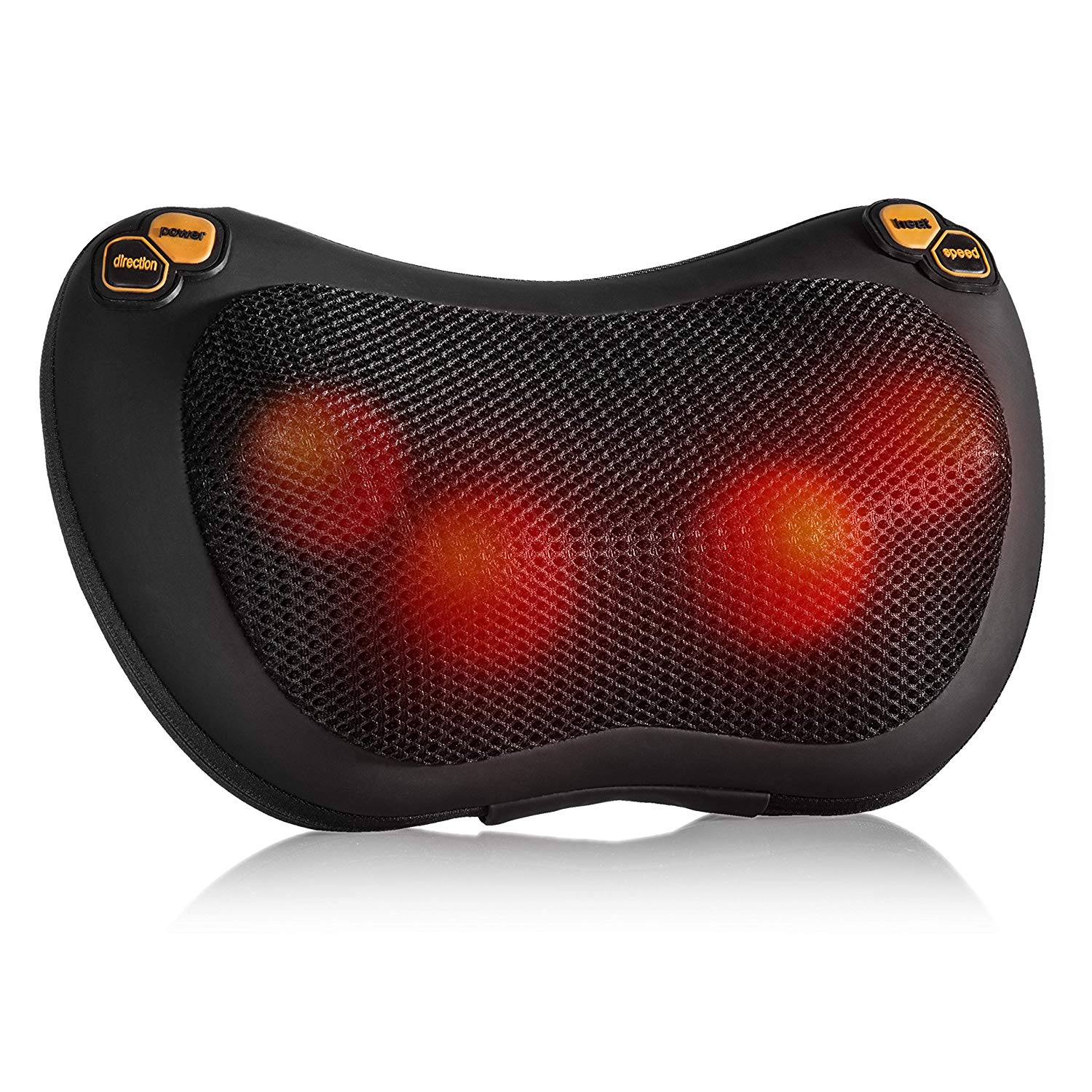 PROS:
Easy control access
Inexpensive
Speed selection
CONS:
No automatic overheat shutoff
Expensive
Defective power button
At a much lower price point, the Zuzuro massager offers tremendous value and additional features.

Speed selection
The Zuzuro offers what most other Shiatsu pillows don't - multiple speed selection.

Reports of defective power buttons
While the device seems to be quite reliable for such an inexpensive unit, there are multiple reports of the on/off button not functioning correctly.

Manual shutoff only
Safety is in your hands. The Zuzuro does not have in-built, automatic shutoff to prevent overheating or 'forgetting' about it.
---
4. Snailax Shiatsu Massage Pillow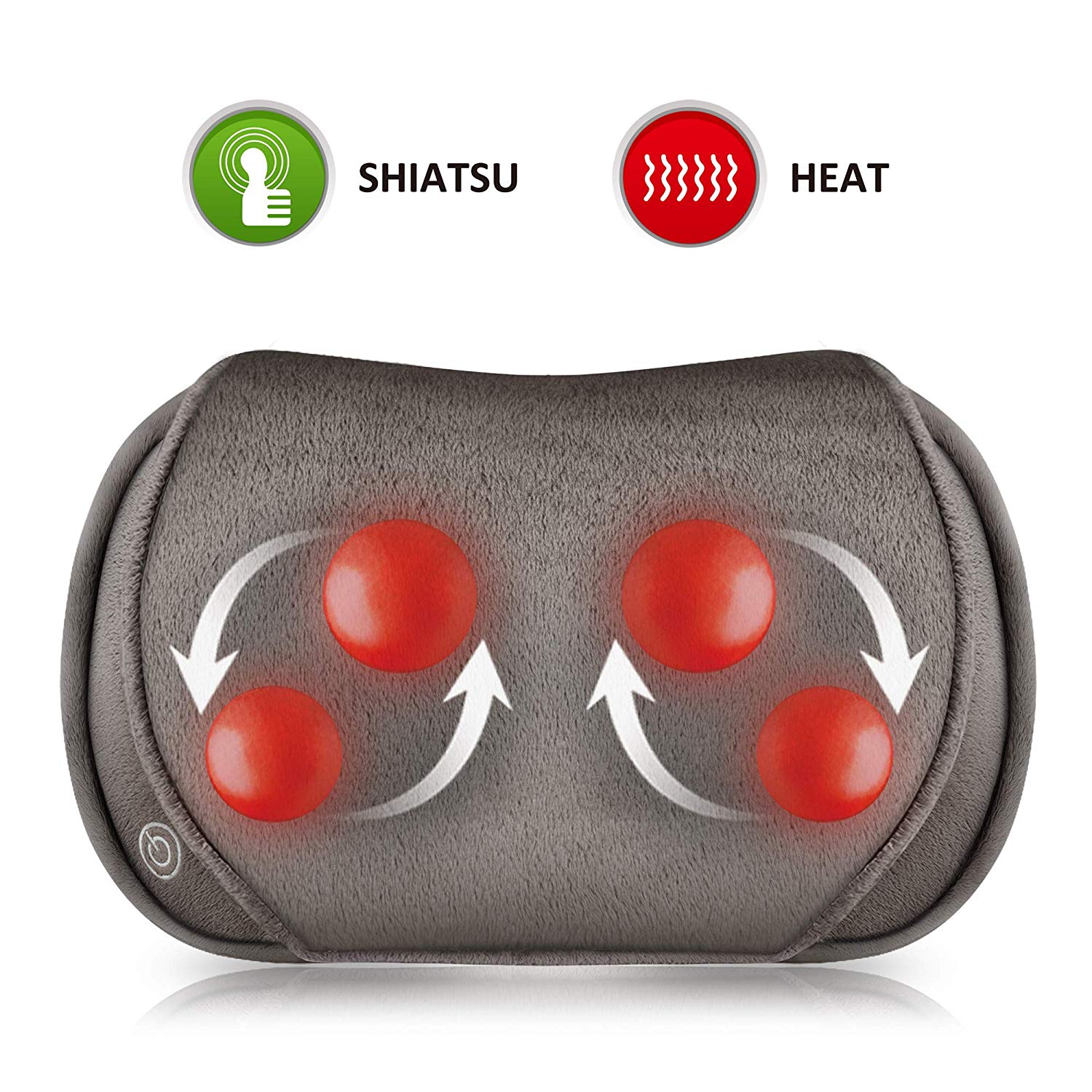 PROS:
Optic soft plush
Comfort flap
Cordless
CONS:
Battery not replaceable
Limited battery charge
If you're after a Shiatsu massage pillow that's incredibly soft to touch, you can't go past the Snailax.

Optic soft plush
Without doubt the biggest selling point for the Snailax is it's soft plush material. Unlike the hard leather and mesh of other devices, this one is delicate and soft.

Comfort flap
In addition to the soft plush is a comfort flap - an extra thick layer that you can open or close depending on how much you like the heat and pressure.

Battery charge and portability
The Snailax has an internal, chargeable battery so that you don't require a cord for power. This is great but be aware that the battery life is very limited.
---
5. FIRSTENJOY Shiatsu Massage Pillow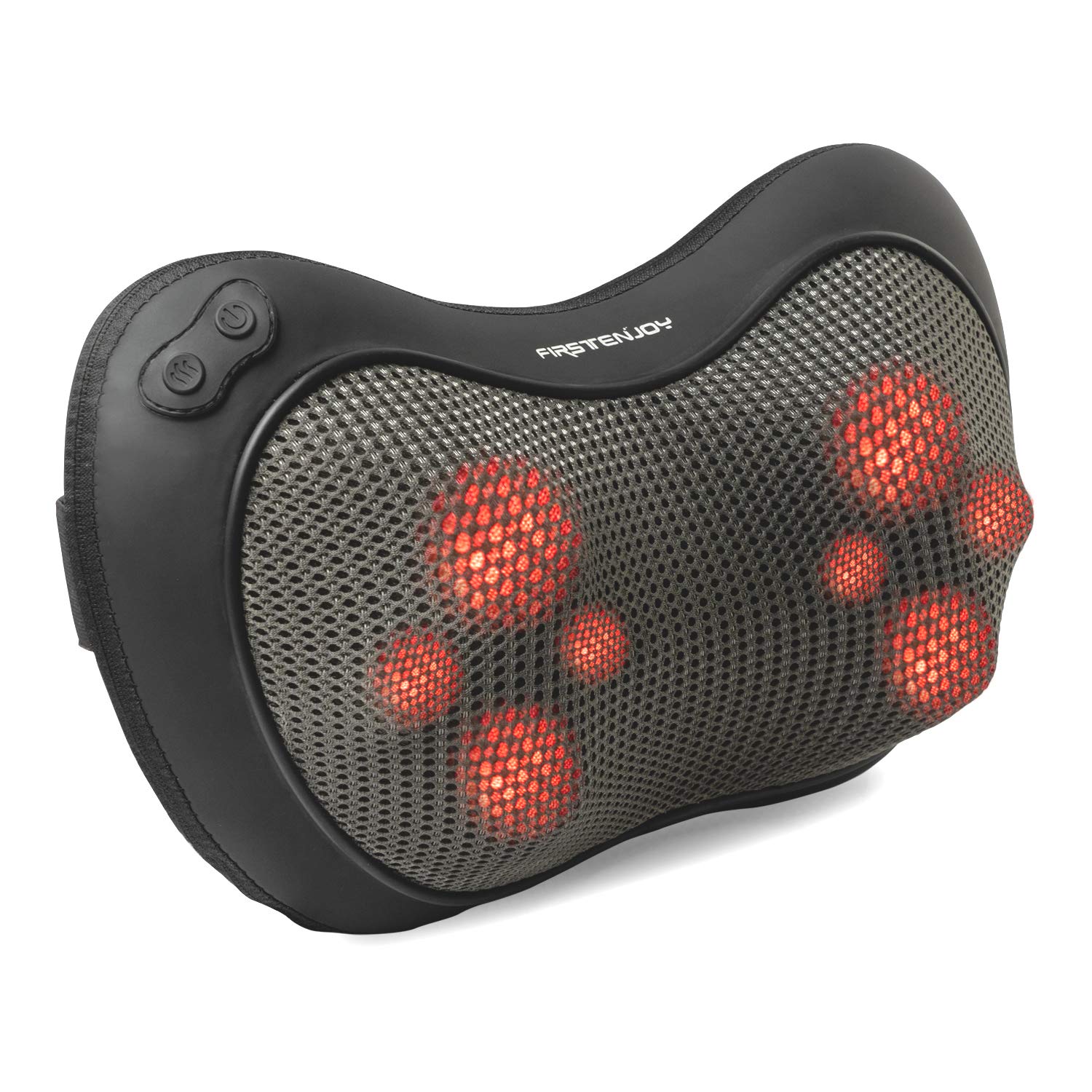 PROS:
Great durability
Eight rollers
Manual reverse
CONS:
Confusing button control
Slightly higher price
The FIRSTENJOY is a great little 8 roller unit that is highly durable.

Eight rollers
The extra two rollers on either side make a big difference in targeting more of your back and neck at one time.

Manual reverse
With the FIRSTENJOY model, you actually have the option to manually reverse the direction of the rollers.

Durable
The FIRSTENJOY is built for durability so may be a good option if you're planning to put extra weight or pressure on the unit.
---
6. SUFFLA Shiatsu Massager With Heat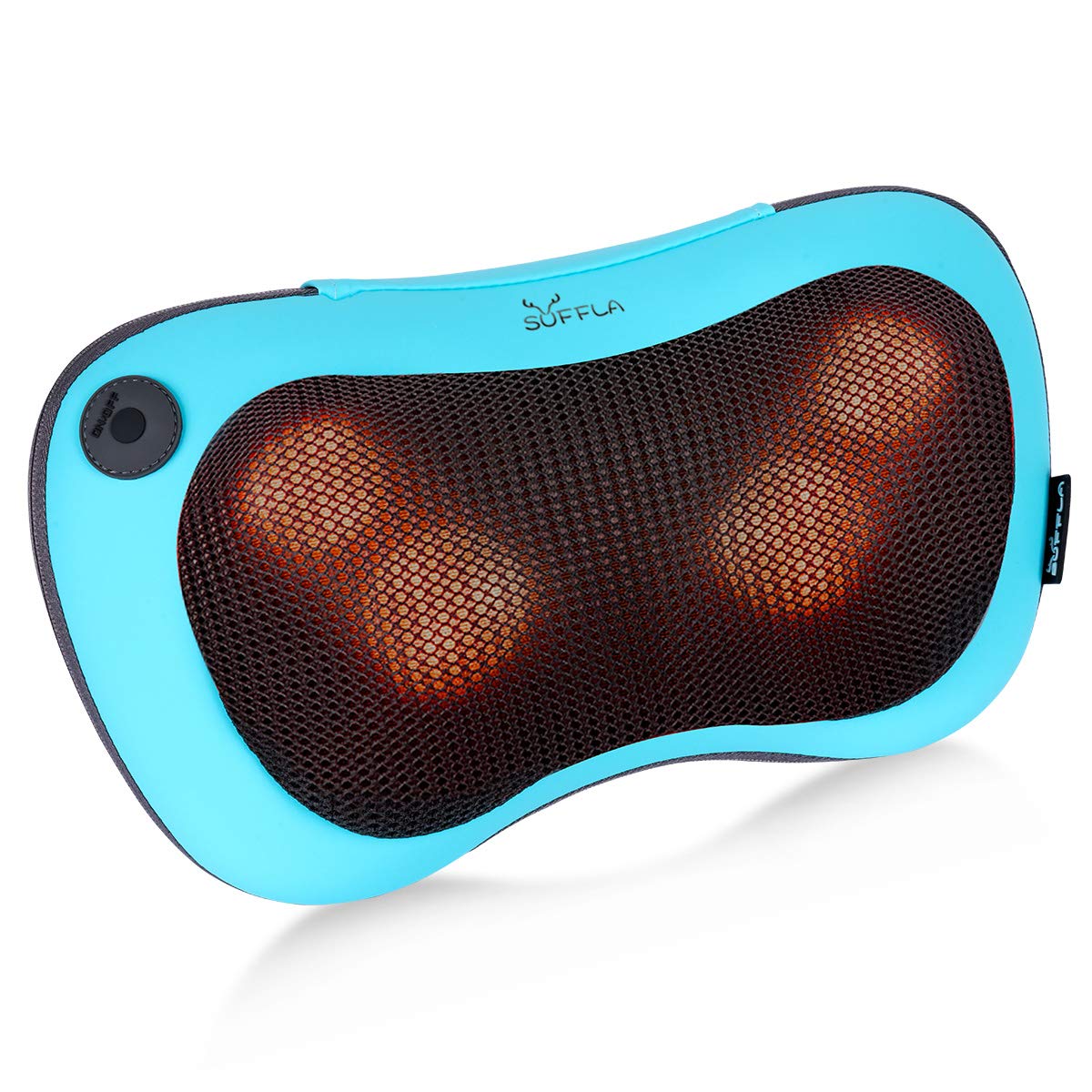 PROS:
Unique light blue design
Automatic shutoff
Breathable mesh
CONS:
No speed control
Slightly pricey
While not offering much in terms of innovation, the SUFFLA is a unique and attractive Shiatsu pillow.

Cool blue design
This may be seen as a pro or con depending on your personal preference, but the SUFFLA has a unique, cool blue design that makes it stand out.

Breathable mesh material
Similar to the Zyllion, the SUFFLA has a mesh design for breathability.

Simple to use controls
The control buttons are incredibly simple and straightforward to use.
---
7. LiBa Cordless Shiatsu Neck Shoulder Back Massager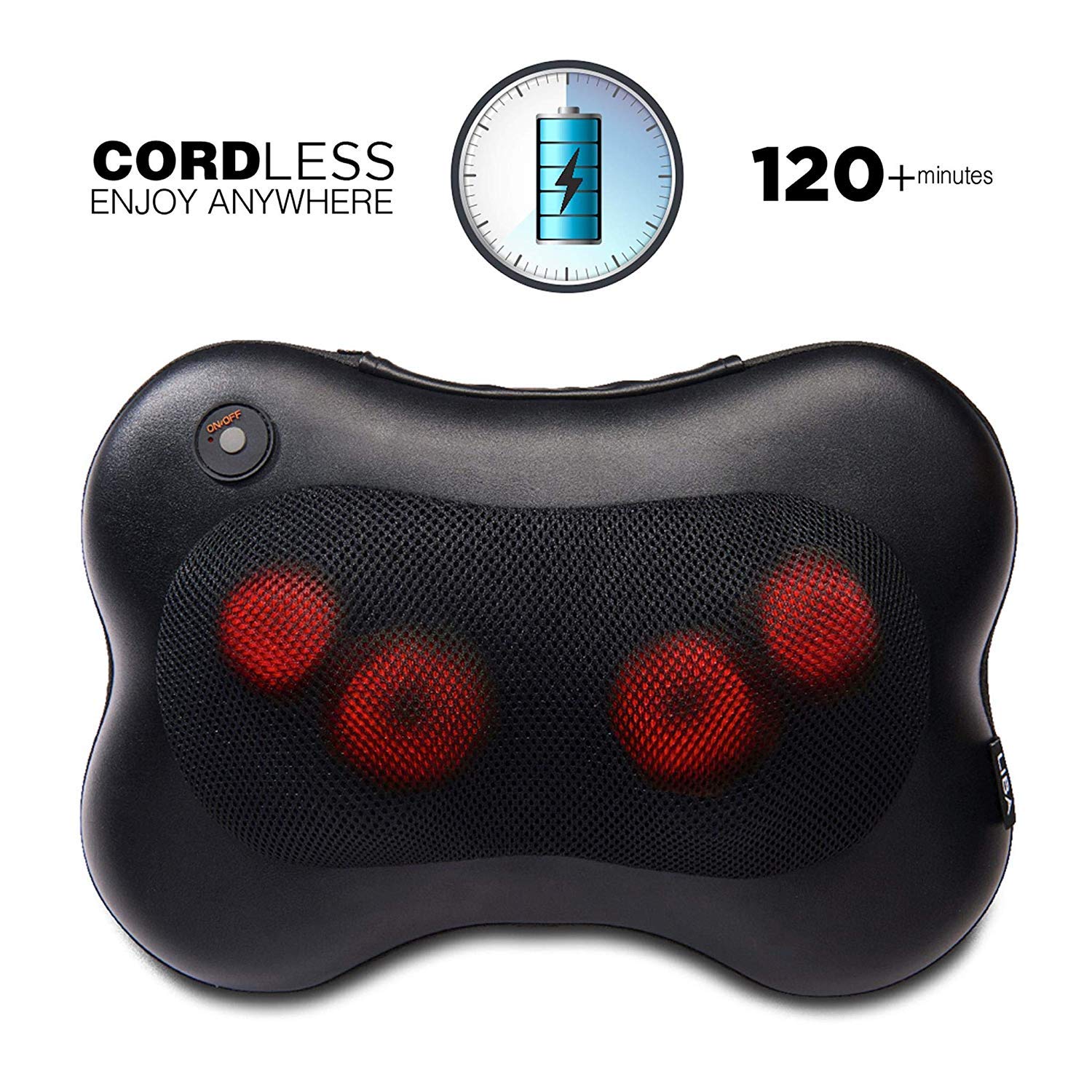 PROS:
Cordless option
Handles heavy weight
Extra strength motors
CONS:
Overbearing strength
Charging defects reported
The LiBa offers something extra for heavy users and slightly longer portability.

Tough unit
The LiBa can handle up to 250lb of weight which means the average person can safely lay on it.

Extra strong motors
The motors are reportedly 2x stronger than usual which means an intense massage. Some people have complained it's too strong, however.

Charging and heating defects
There are some reports of charging and/or heating defects with the unit.
---
8. MaxKare Back And Neck Massager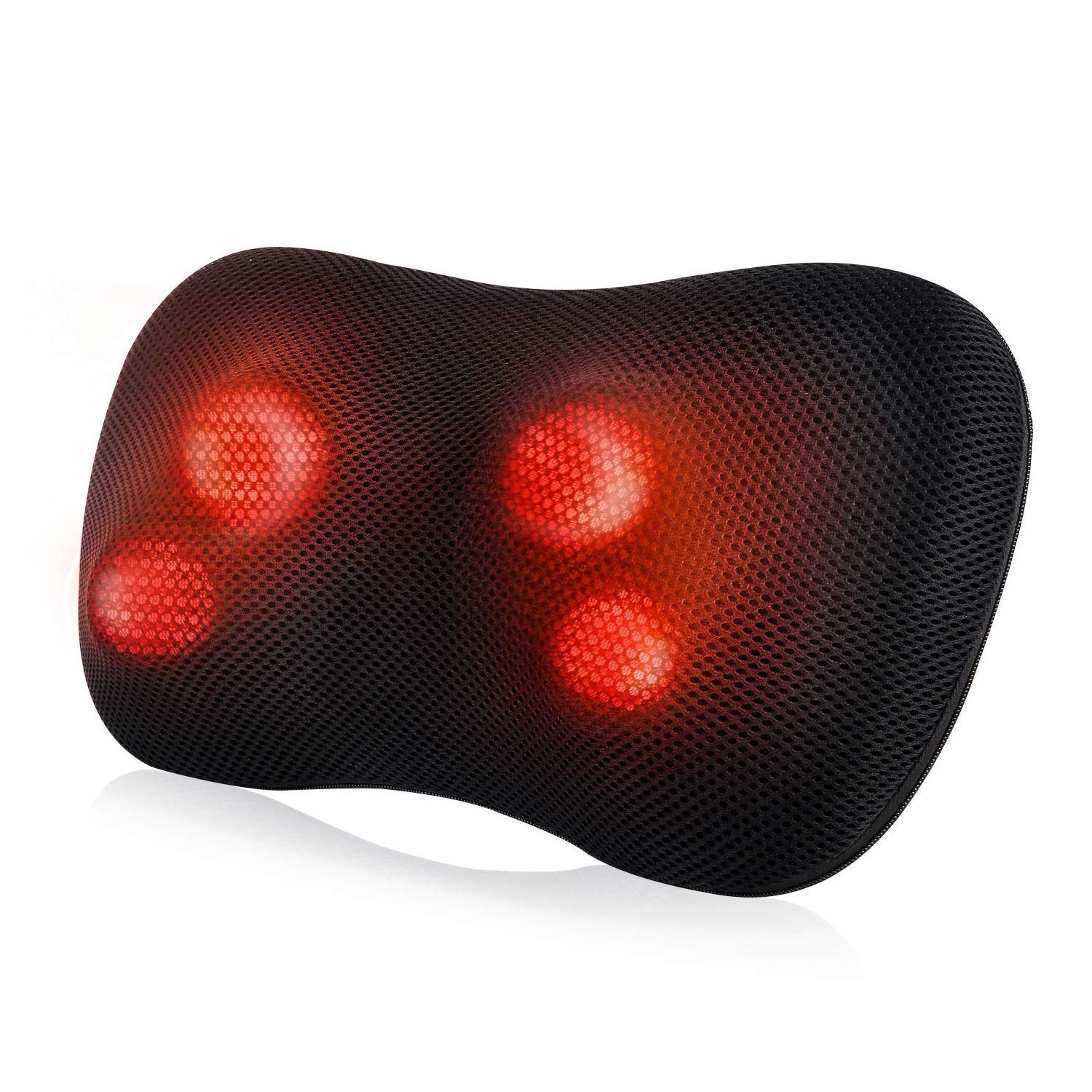 PROS:
Elastic strap
Car adapter
Reasonably priced
CONS:
Unattractive design
No speed control
Malfunctioning shutoff
As a budget option, the MaxKare Shiatsu pillow offers all the features you need for a self-massage.

Elastic adjustable strap
The MaxKare can be attached to most seats at various positions and angles.

Malfunctioning shutoff
Unfortunately, there are some reports of the unit having electrical faults that involve the automatic shutoff.
---
9. MagicMakers Shiatsu Massage Pillow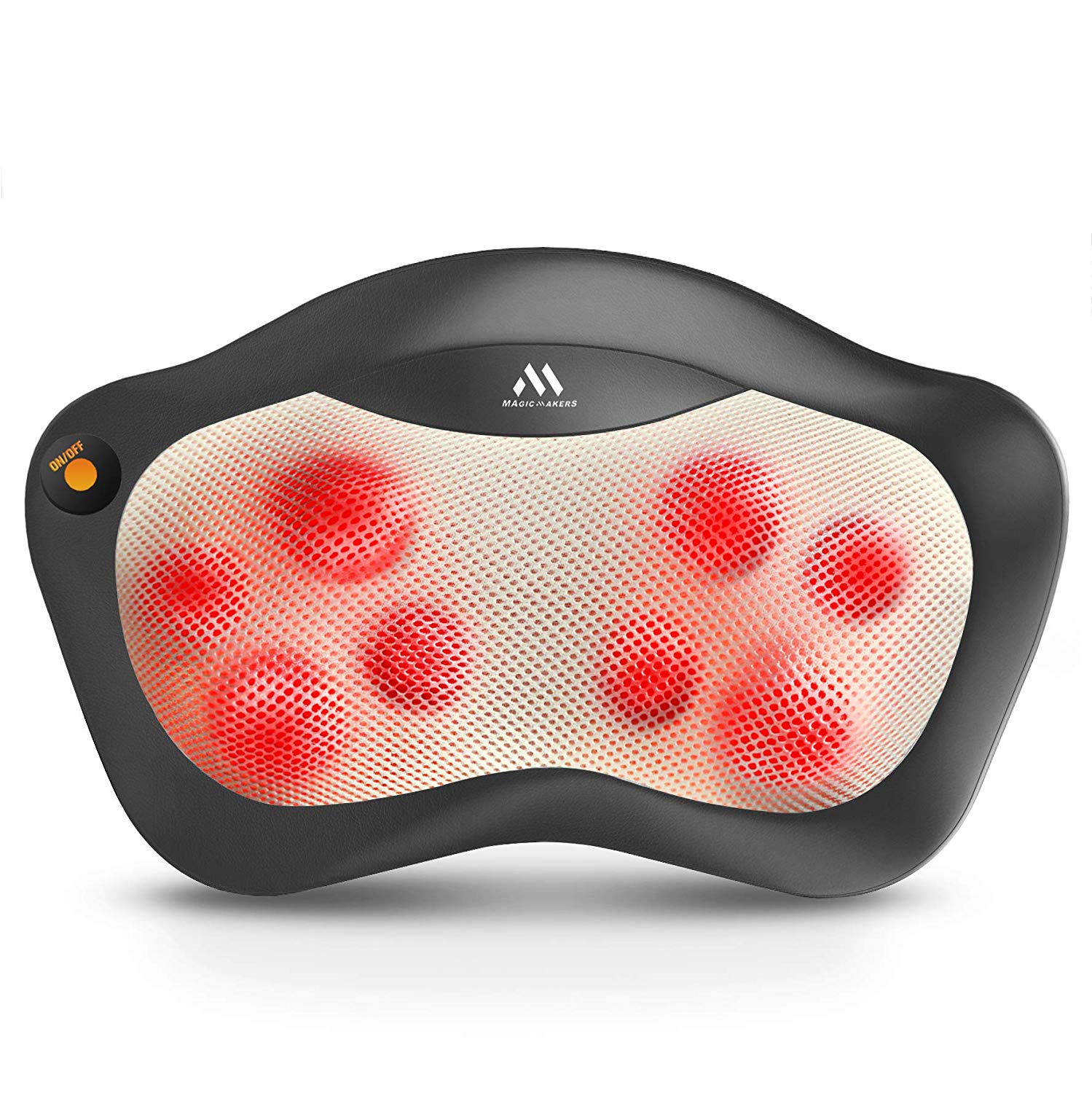 PROS:
Sleek design
Eight rollers
Three year warranty
CONS:
Weak motor
Not a strong unit
Basic controls
The MagicMakers Shiatsu pillow is a great 8 roller option with a sleek design.

Sleek design
The MagicMakers unit has a recognizable and unique material design that outdoes most of its competitors.

Many complaints about its build and motor strength
It may be that MagicMakers sacrificed some structural and mechanical integrity as numerous people have complained of the unit breaking under pressure.

Optional cover
The MagicMakers pillow has an optional cover to put over the rollers for a less intense massage.
---
10. Papillon Shiatsu Back And Neck Massage Pillow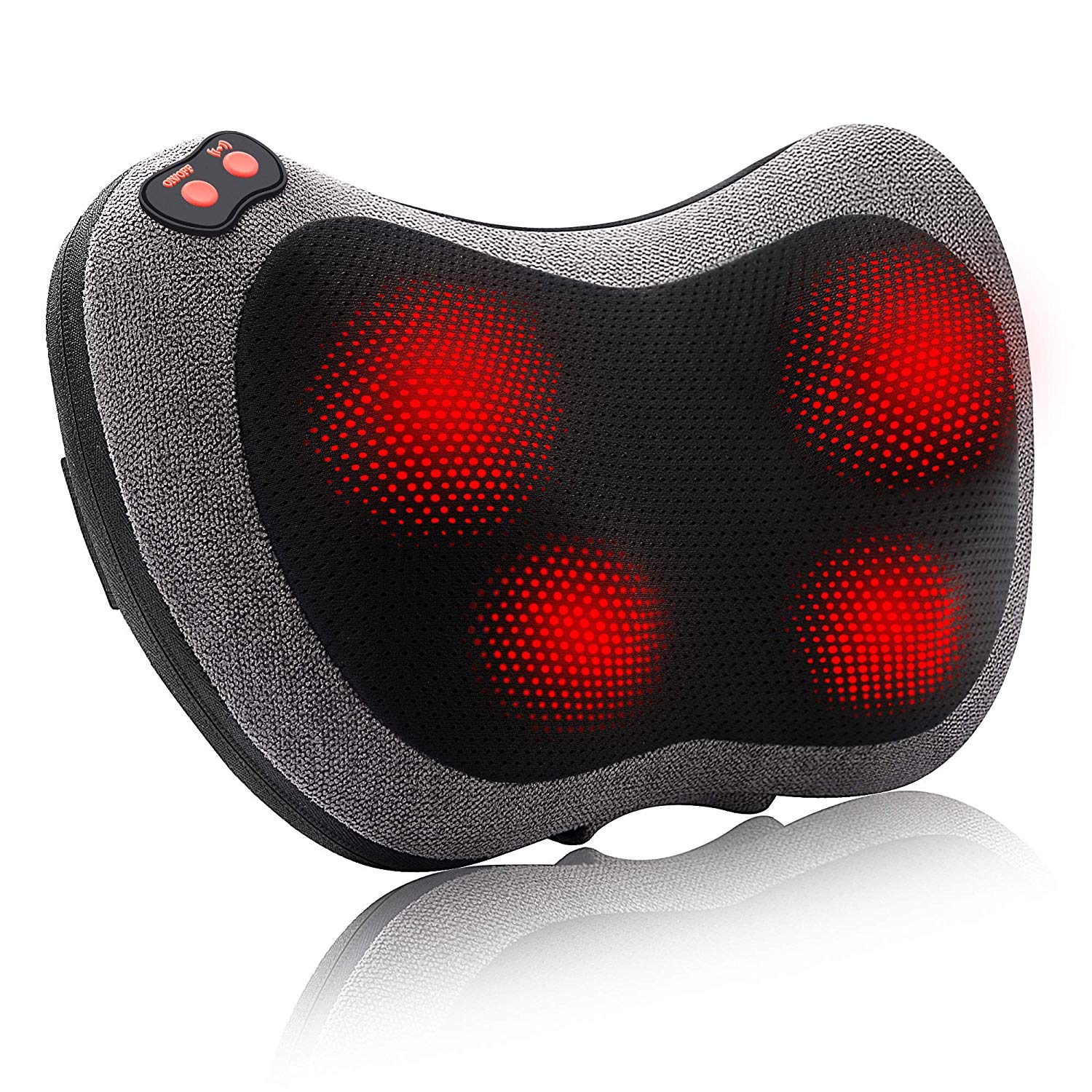 PROS:
Sofa fabric
Adjustable speeds
Stepped temperature design
CONS:
Motor malfunction Ugly
The Papillon is an outstanding option with a sofa fabric exterior and adjustable speed controls.

Sofa fabric
The Papillon massager has moved away from leather and plush to a sofa fabric exterior.

Adjustable speed controls
There are 3 adjustable speeds in the Papillon unit.

Motor defects
Motor defects seem to have been reported in some units when pressure is applied.
---
Criteria For Shiatsu Pillows
1. BUILD
We take into consideration the structure and sturdiness of the design, including how well it holds up with a weight test.
2. PRICE
Obviously the cost is taken into consideration and compared with other similar item prices.
3. FEATURES
Core features and components such as heat, rotations, travel-readiness and button options.
4. MATERIAL
Aesthetic criteria not related to structural integrity (i.e. the fabric used, zips, cords and so on).
---
Frequently Asked Questions
Q:

Are Shiatsu massage pillows safe?

A: Yes, absolutely. However, this all depends on whether or not you're using the device as it's intended to be used. Most Shiatsu massage pillows come with clear instructions on how to actually use it and where it's safe to use (e.g. you should not be using it on your scalp or groin!). Also, if you have any pre-existing medical conditions (e.g. a spine injury), you should consult your doctor first.
Q:

Can I lay on my Shiatsu massage pillow?

A: See our point below on pressure/weight. Generally, the answer is no but this all depends on the model you buy and how big you are. Some devices are cheaply manufactured and will break with full body weight on them.
Q:

How long can I use the massage pillow in one session?

A: As a general rule of thumb, we wouldn't advise using it longer than 15 - 20 minutes per session. It's also super important that you move it around and target various areas. Leaving it on one spot for an extended period could be harmful.
---
What To Look Out For
How much pressure(weight) can the massager handle?
We can't emphasize this point strongly enough. Some of the devices are made very cheaply from low quality internal parts that can't handle much weight. This means that when you apply too much body pressure (especially if you lay on it!), it may crack or damage the motors. If you're a larger person, ensure that the Shiatsu pillow can handle the weight you put on it.
Does it have heat? (and can you optionally turn it off?)
The heat makes all the difference to the Shiatsu pillow experience. When you apply heat to sore and tired muscles, it causes blood to rush to the area which promotes healing. It also "loosens" the muscles and frankly, just feels amazing. Make sure you have the option to switch it off though as the heat can get a bit much if used for a long time.
Are the Shiatsu pillow buttons easily accessible?
This sounds a little silly but trust us - make sure that the on/off, heat and/or rotation buttons are easily accessible while you're using it. Some devices have the buttons in awkward spots that require you to turn around, lift the device up and press the button. Trust us on this one!
---
Additional Sources
---
Affiliate disclaimer: DeepShiatsu.com is a participant in the Amazon Services LLC Associates Program, an affiliate advertising program that is designed to provide a means for sites to earn advertising fees by advertising and linking to Amazon.com.
We earn a modest commission on our Amazon links.